· Resume ·

· AUTHOR BIO ·

· Publication Index ·

· Writing Topics ·

· Writing Services ·

· Editing Services ·

· Main ·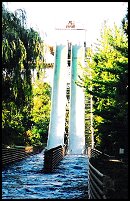 Melissa supervised White Water Landing at Cedar Point during the 2003 season. It was closed in 2005 and later removed.



Besides writing, what does Melissa enjoy?

· Cruise Vacations
· Roller Coasters
· Reading Novels
· Chocolate
· Baking
· Thrift Stores
· Travel
· Ice Hockey
· Cross Stitch
· Green Living
· Backyard Birding






I should have known I'd be a writer when I took Creative Writing in high school as an independent study class -- not once, but twice, and that after I'd already completed the regular course. A second clue should have been when I visited two years after graduation and my teacher still had some of my work posted on the bulletin boards. But did I take the hint? No.

Instead, I earned a history education degree and became a teacher, primarily because my husband Marc, who teaches physics, is passionate about his career and thoroughly enjoys his job. I wanted that same enjoyment, but I wouldn't find it in a classroom. After two years of lesson plans, grading homework, and proctoring tests, I realized it wasn't for me.

The decision to leave a career I'd worked for six years to get (transferring colleges twice prolongs education that way) was not easy, particularly with the common misconceptions about starving writers and evil editors. Instead of plunging directly into writing, I returned to Cedar Point, an amusement park in Ohio, where I'd worked my way through college. After a few months of rejuvenation in its energetic environment, I was ready to write. Little did I know that the experiences I had sweeping up cigarette butts and operating roller coasters would prove quite profitable to my new career.

I began writing slowly, studying how-to books and market guidelines long before I made my first pitch. I also began working in at a local library -- what better place for a budding writer to discover hundreds of opportunities? Being immersed in books and having easy access to the latest magazines encouraged my passion for words, and on May 16, 2004, my first published piece appeared in the Florida Times-Union newspaper.

That simple story, a review of the soon-to-close Miracle Strip Amusement Park, led to other stories about roller coasters and amusement parks, and those clips led to regular assignments. After moving to Utah, I presented those clips as evidence of my experience and skill, landing a regular beat as a stringer for the local newspaper. Following my success with writing about amusement parks, my first national piece appeared in the May 2006 issue of Budget Travel Magazine discussing my experiences as a Cedar Point Employee.

Writing for online markets has been a different challenge. Rather than local connections, online writing requires knowledge useful to a wide range of visitors, and I honed my skills with different websites and online newsletters. Today my work can be found on a range of websites, blogs, and newsletters.

My venture into editing has been altogether different. I am a voracious reader, and in May 2005 I read a novel published by Carnot USA Books in which I found more than two dozen obvious errors -- typos, misprints, etc. Distressed and inspired, I wrote the publishing director, pointed out specific errors, and offered my services. To my immense surprise, he called me and within a few days I had a galley on my desk for their next release. Though Carnot USA Books has since shifted their focus and no longer uses my services, I've gone on to offer my expertise directly to authors and other small publishers, specializing in creative editing that helps authors keep their voice while losing their errors.

Where will my writing take me next? It will be a fun ride to find out.





Visit Melissa's blog, Be Your Own Birder.